Resizing images can be problematic without the right software, especially when you are trying to get images ready for publishing them onto a website that has file size limitations.
Typically, websites will only allow you to upload images that are 1024px by 728px in size or less, or they may restrict by file size for 250K or less. The problem is that with our super powerful megapixel digital cameras, we end up with images that are in the 4752px by 3168px range or something very large like 1.5M to 4M each!
Picasa is an amazing free software that helps the average person manage these photos, resize them in bulk and even upload them to the web. It can certainly do the job. But, many people have alternative software that they use for managing their photos on their local computers and may not want all of its features if they are looking to simply resize a few images.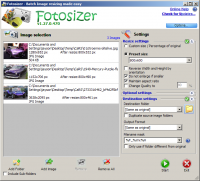 Fotosizer, is a batch image re-sizer tool that resizes your photos in 3 easy steps. It's a free software, with a very small footprint, and works like a charm. The user interface has a lot of options, as does Picasa, but it's all contained in one window, is straight forward, and easy to use. You can drag and drop images you want to resize right into the window too. Click on the screenshot to zoom in and see the options I typically set.
I'd recommend either - it just depends on what you prefer.